The next era of connectivity
Bandwidth demands will continue to rise with the advent of multi-player AR/VR applications, cloud gaming, 4K calls, and 8K streaming.

AR/VR

CLOUD GAMING

4K CALL

8K STREAMING
To meet the connectivity requirements of the future, MediaTek is one of the first adopters of Wi-Fi 7 technology, the next generation of the Wi-Fi standard.
Discover why MLO is a key driver of
Wi-Fi 7 performance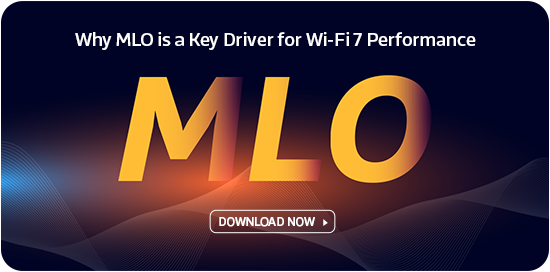 Why is this important for …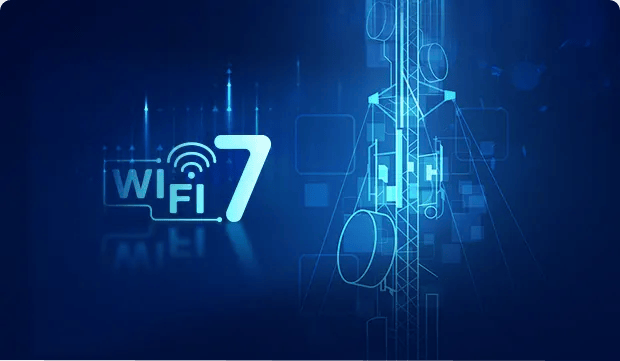 Operators
End-to-End Flagship platforms for routers, gateways, access points, and devices
Integrated Network Processing Unit
Wi-Fi 7 performance up to 36Gbps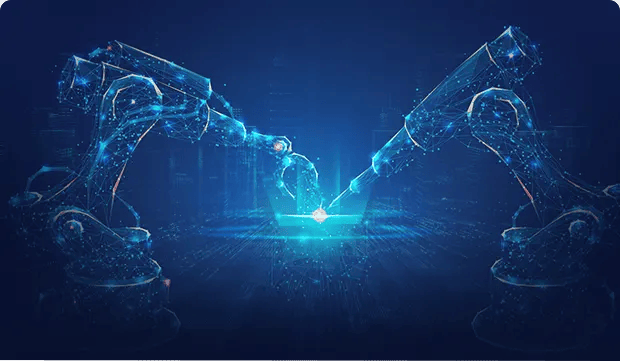 OEM(Original Equipment Manufacturers)
Scalable to Penta-band support
Rich wired connectivity and interfaces
Unique 4T5R design

Wi-Fi 7
you can have it ALL!

FASTER
Close to 4X the wireless datalink performance, delivering over 36Gbps.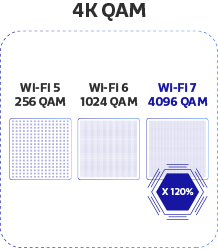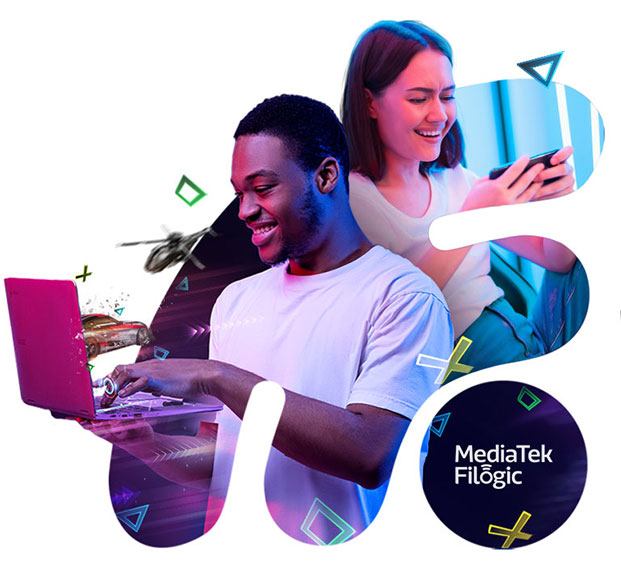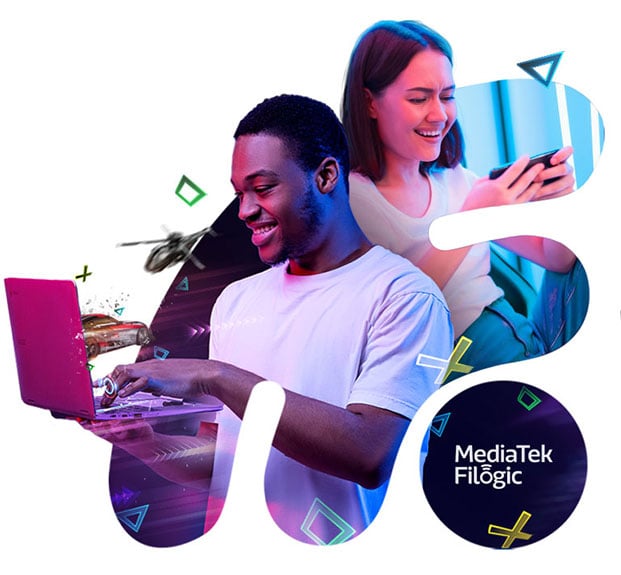 MORE RELIABLE
New Multiple Resource Unit (MRU) lowers multiple user latency by 25%.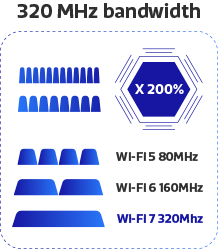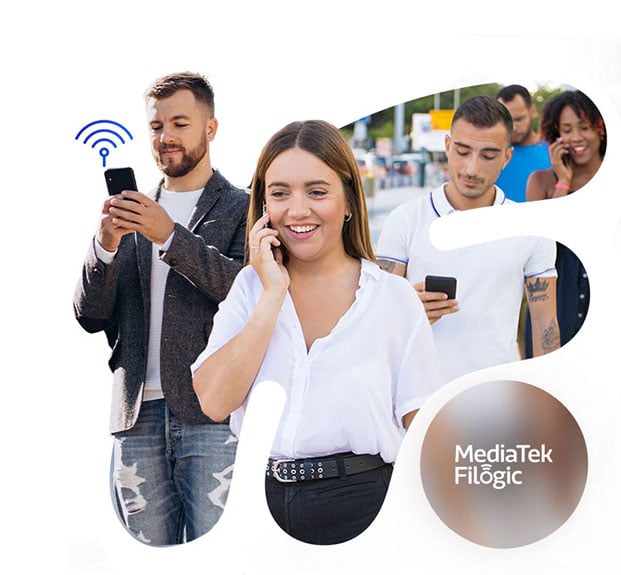 ALWAYS-ON CONNECTED
New Multi-Link Operation (MLO) improves single user latency by 80% and throughput gains of up to 300%.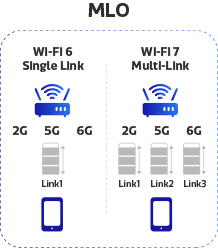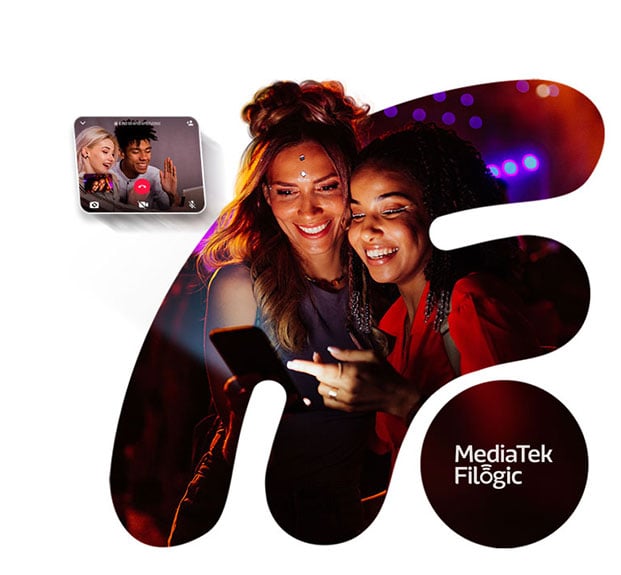 Wi-Fi 7 End-To-End Solutions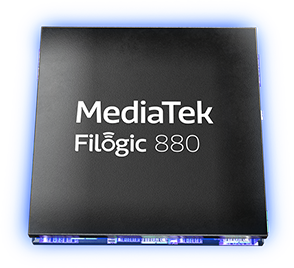 MediaTek Filogic 880
Flagship 36Gbps Wi-Fi 7
AP/Router/Gateway Platform
for the Fastest, Most Reliable
Connectivity Experience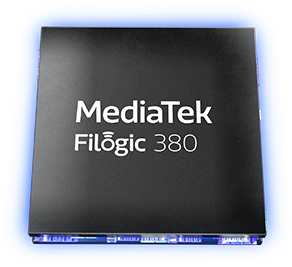 MediaTek Filogic 380
Single-chip Wi-Fi 7
and Bluetooth 5.3 Client
Combo Solution

MediaTek's Filogic series of high-performance, power-efficient, and reliable Wi-Fi solutions deliver seamless connectivity for always-connected experiences.
If you are planning for Wi-Fi 7 next year, you can count on MediaTek Filogic to keep you connected.
What sets apart

High Performance
Filogic's high performance designs offer faster multicore performance in a highly versatile platform for more design flexibility.

World-class Support
MediaTek collaborates with customers from concept to design and manufacturing to allow for more customization and faster time to market.

Multiple Bluetooth Signals
MediaTek Filogic has the latest Bluetooth technology to extend bandwidth and increase mesh airtime to better support simultanous applications.
Low Power
Filogic provides best-in-class power efficiency in small form factor designs, delivering extended battery life for the best user experience.

Enhanced Coverage
MediaTek's hardware-based algorithm provides extended range capabilities and improved antenna reception for faster, more reliable connectivity.

Security
Highly secure with a dedicated security engine, Secure Boot and TrustZone® so brands can develop products that customers trust.
News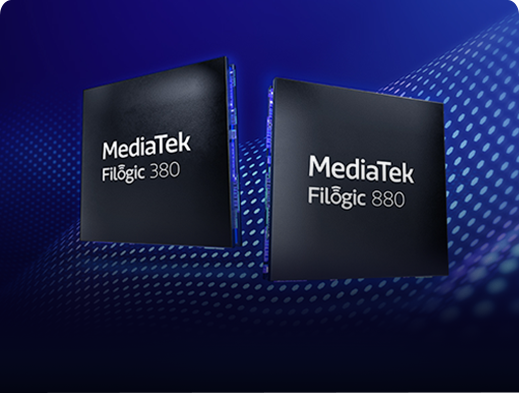 Exploring Wi-Fi 7 and MediaTek's Filogic 880 & 380 chips - Mobile Tech Podcast
The recent Mobile Tech podcast, hosted by Myriam Joire, interviewed Dr. James Chen, MediaTek Associate Vice President. They discussed the new Wi-Fi 7 standard, and what the recently announced MediaTek Filogic 880 and Filogic 380 Wi-Fi 7 chipsets will offer.
Learn More
DOWNLOAD NOW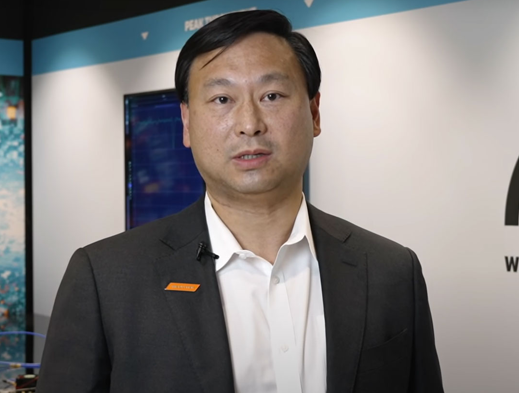 MediaTek Wi-Fi 7 Demo &MLO Benefits
There are many core improvements in Wi-Fi 7 that enhance the user experience by handling wireless connections more efficiently. This greatly increases speeds, allows more effective mesh networks, and provides the very latest interference mitigation techniques to ensure wireless devices are always connected fast and reliably, even in dense network environments.
Learn More
DOWNLOAD NOW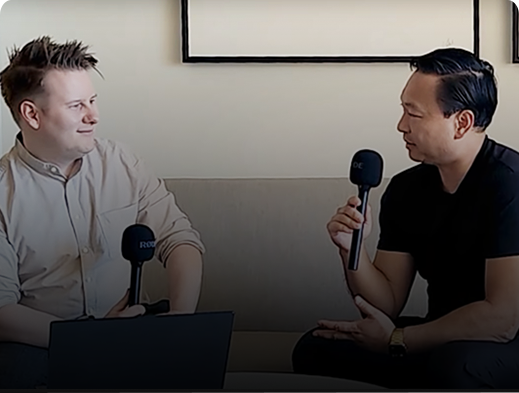 Wi-Fi 7: MediaTek's Dr. James Chen, talks to Dr. Ian Cutress
Dr. Ian Cutress from TechTechPotato has interviewed MediaTek Associate Vice President, Dr. James Chen, discussing the forthcoming Wi-Fi 7 standard and the latest MediaTek Filogic 880 and 380 chips that will empower flagship Wi-Fi 7 access points and devices, respectively.
Learn More
DOWNLOAD NOW